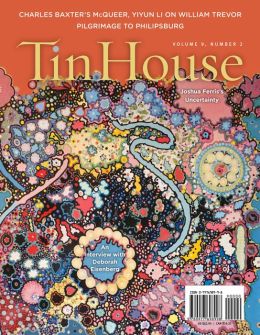 I am a big fan of Tin House, the literary journal from Portland, Oregon. Get your hands on a copy. (I have some I could lend...)
Tin House Theme Issues
We accept submissions until May 31, and, as always, our summer and winter issues are not themed. We consider each submission for all upcoming issues regardless of theme. If you wish to be considered for a particular theme, please make a note in your cover letter. We have provided suggested deadlines for each theme issue, but please be aware that these fill up fast, so get your theme-issue submissions in as soon as possible.
Tin House is now reading for our next TWO issues:
Winter, 2015: Open, non-themed. Pub date December 1, 2015. Deadline for submissions: May 31, 2015
Spring, 2016: FAITH. We are looking for fiction, poems, essays, and interviews dealing with the faith in not only religions, but faith in knowledge, math, science, people, animals, places, institutions, food, color—anything that could possibly be a receptacle for one's faith, questioned or unquestioned. Pub date March 1, 2016. Deadline for submissions: May 31, 2015.
one story or essay (10,000-word limit), or up to five poems at a time.
They use online submittable. Link and info here