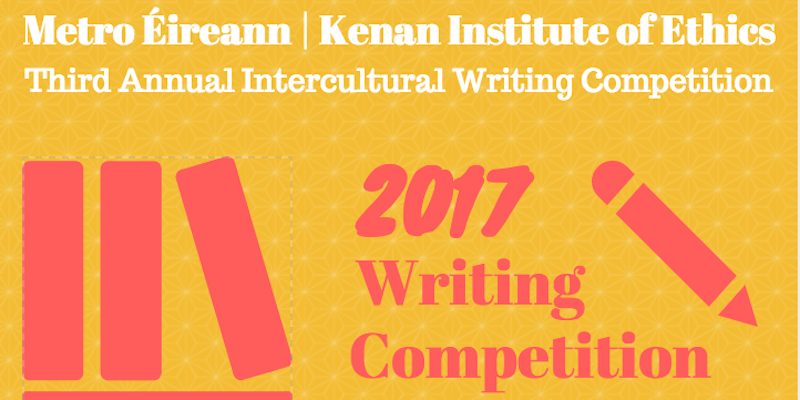 Metro Éireann, in collaboration with Duke University's Kenan Institute of Ethics, invites young writers living in Ireland to submit original works of writing to its third annual intercultural writing competition.
Writers between the ages of 14 and 21 – immigrants and non-immigrants – are encouraged to enter submissions that explore the ethical challenges associated with intercultural diversity in Ireland. There is no submission fee.
Prizes. €3200 will be awarded in three categories during a ceremony on August 4, 2017. There will be:
- An ages 14-17 winner (€800) and runner-up (€400)
- An ages 18-21 winner (€800) and runner-up (€400)
- An ages 14-21 Spirit of Intercultural Ethics winner (€800)
Winning entries may also be published in Metro Éireann.
Deadline: July 30, 2017,
All submissions must be previously unpublished. Submissions may take one of three forms:
- A short story (2,000 words maximum)
- A novel extract (2,000 words maximum)
- A selection of poetry (5 poems maximum)
Submissions must be typed using 12-point Times New Roman font, double-spaced, and sent to info@metroeireann.com with the entrant's full name and the word 'Submissions' in the subject line. Submissions should also include a cover page that provides the entrant's personal information (name, age, address, telephone number) and details about their work (age category, title).
Judges will determine winners according to the following list of criteria:
- Engagement with themes of ethics and intercultural diversity
- Creativity and originality
- Organization and structure
- Impact on the reader
- Initiative of beginning writers