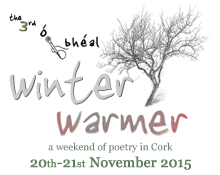 20th – 21st November 2015

Ó Bhéal are running the 2015 Winter Warmer Poetry Festival in Cork City.

Over twenty-two poets will read/perform over two days. The festival also features poetry-films, dance-poetry, poetry set to various music, including sean-nós and a closed-mic for ten regular Ó Bhéal poets.


Free Admission
to all events (donations gratefully accepted)
Programme
Friday 20th November 7.00pm – 8.00pm
Kim Moore | Dean Browne | Michelle O'Sullivan
8.30pm – 9.30pm
Maurice Scully | Kobus Moolman | Kerry Hardie
10.00pm – 11.15pm
Nell Ní Chroinín & Marcus Mac Conghail
Erin Fornoff | Karlis Verdins | Aneírin Karadog
Saturday 21st November
1.00pm – 3.00pm
Poetry Films | Dance Poetry with Amy Prendergast | Closed Mic
ó
A
Closed Mic
will feature ten poets who appear regularly at the Ó Bhéal open-mic on Mondays, including Michael Sheehan, Seán Bent, Philip Spillane, Shane Vaughan, Roisín Kelly, Jude O'Neill, Michele Delea, Charles Clarke and Lizzy Foley.
3.30pm – 4.30pm
Michal Weber & Friends | John W. Sexton | Christine Murray
7.00pm – 8.00pm
Eileen Sheehan | James Byrne | Orlagh de Bhaldraithe
8.30pm – 9.30pm
Lillian Allen | Derry O'Sullivan | Maram al Masri
10.00pm – 11.00pm
Theo Dorgan | Leanne O'Sullivan | John Cummins