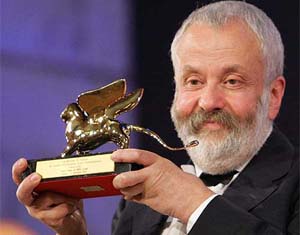 I love Mike Leigh's stuff. I'd like to be able to write stories and characters like his scripts. Anyway, he's coming to do a masterclass for established film professionals so if that's you, I'd go.

Date: 22/2/2008
Duration: half day
Venue: Meeting Room, Irish Film Institute
Cost: ?50.00
Deadline for applications: 15th February 2008
The Masterclass will be open to all industry professionals who have been established within the sector for 3 years and produced at least 1-2 film projects.

Please apply online .

Course Profile:
The masterclass will provide a key element of the Irish filmmaking sector with the opportunity to interrogate and evaluate the work of one of the world's most acclaimed and renowned theatre and film directors of recent years. Leigh's work is both challenging and controversial, and will provide examples and advice for emerging filmmakers, as well as support and encouragement for more established directors. The masterclass is an ideal opportunity for filmmakers to witness at first-hand the workings and methods of this master of the artform.

The Masterclass will start with a screening of NAKED (1993) on Friday 22nd February at 10.30am.

The second part of the event will focus on this film from preproduction to distribution, while also making reference to his career as a whole. Using clips from many of his films for illustration, the workshop will start with a Q+A session.